(833)497-3667





WITH 639 REVIEWS
CLICK
To view local phone numbers
(479)-316-4226
(479)-316-4226
---
Fayetteville Area





Asher

Aurora

Canehill

Combs

Evansville

Greenland

Harris

Hazel Valley

Hogeye

Japton

Johnson

Kingston

Morrow

Pettigrew

St. Paul

Strickler

Summers

Wesley

Winslow

Witter
(479)-439-9119
(479)-439-9119
---
Springdale Area





Alabam

Elm Springs

Hindscille

Marble

Tontitown
(479)-250-4039
(479)-250-4039
---
Rogers/ Bentonville Area





Avoca

Gateway

Lost Bridge Village

War Eagle
(479)-802-4646
(479)-802-4646
---
Bella Vista Area





(479)-439-9119
(479)-439-9119
---
Siloam Springs Area





Cherokee City

Highfill

Maysville
(479)-259-1076
(479)-259-1076
---
Fort Smith Area





Alix

Altus

Bonanza

Branch

Cecil

Cedarville

Central City

Charleston

Chester

Dyer

Hartford

Huntington

Magazine

Mansfield

Midland

Mountainburg

Mulberry

Natural Dam

Oark

Ratcliff

Rudy

Uniontown
(417)-553-9849
(417)-553-9849
---
McDonald County





Goodman

Lanagan

Powell

Rocky Comfort

Seneca

Southwest City

Tiff City
(918)-208-0341
(918)-208-0341
---
Eastern Oklahoma Area





Akins

Belfonte

Bokoshe

Bunch

Dwight Mission

Fanshawe

Fort Coffee

Gans

Gore

Hodgen

Honobia

Howe

Le Flore

Long

Marble City

Moffett

Monroe

Muse

Panama

Pocola

Roland

Shady Point

Smithville

Spiro

Summerfield

Talihina

Vian

Whitesboro

Wister
Read what people are saying
about Precision Garage Door
Precision Garage Door of NWA & River Valley
has received
3
reviews, averaging
1.00
Stars:










Date:
05/07/2022
Broken Garage Door Spring Repair
Fort Smith, AR
Review:
I called Precision to fix a broken spring. They came out promptly and gave a bid of $1100.00 to my wife. I told them to to leave. I then called Southwest Garage Door Co who came out and fixed my garage doo for $175.00. I paid Precision their $49.95 service fee and save almost $1000.00 by using Southwest. Thanks Precision for costing me and extra $50 for nothing. You guys are the storm chasers of garage doors. I won't waste my time calling you again.
- Kevin Weakley
Service Provided:
Broken Garage Door Spring Repair
---
Technician:
Dustin Mclean





Date:
04/12/2021
Garage Door Repair
Springdale, AR
Review:
$300 to replace 2 cables? Plus tried to upsale me to a $1000 bill? Nope never again.
- Richard Clark
A Response from: Patrick Behrens
The hardest part of giving the type of great service that Precision Door is proud of is communication, We appreciate the communication from you regarding your outlook on the service we provided to your daughter Beth, who lives at the residence you wrote this review about. She was there when we provided our service and has written us a 5-star review on Google. As a parent I understand being over protective of our children, even when they are adults. Our technicians pull every damaged or worn out part on a door and then let the customer decide if that part should be replaced or not. We presented those parts to your daughter , who then made the decision to replace her worn and damaged parts with our superior quality parts , such as stainless steel cables. We may give the option of replacing all of the parts on a door , but leave that decision up to our client. Unfortunately you were not present when we at the home , and it is difficult to assess the condition of parts over the phone. We received a 5-star and a 1 -star review on the same job. Of course we would like both reviews to be 5 stars, but we will be happy with knowing the 5 star reveiw was left by the person who actually was present and was able to walk through the worn and broken parts on the door and then make the best decision for her. We wish you and all of your family the best , and hope that your future garage door repair experiences are good ones.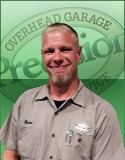 Service Provided:
Garage Door Repair
---
Product:
Cables
---
Senior Technician:
Steve Colley





Date:
11/21/2020
Garage Door Repair
Siloam Springs, AR
Review:
High prices & High pressure salesman trying to sell products we didn't need. Another company did the work we wanted for 1/10th the cost!
- Mike
A Response from: Patrick Behrens
Thank you Mike for taking the time to leave your review. We need feedback from our customers, both good and bad, to improve our business. We only wish we would have received the review at the time of our service rather than 4 months after we had been to your home, perhaps then we would have been more able to help you become a satisfied customer. We never like to hear that a customer would feel pressured into any decision, as it is our practice to show you the worn parts before ever recommending replacement. Most garage doors are made up of a system of 2 springs, pulleys, rollers, cables, hinges and assorted nuts and bolts. When a part fails, whether it be due to lack of maintenance, the amount of usage, or other contributing factors, it is common to find additional items associated with this failure. I did look over the photos and safety inspection we had completed while in your garage. Your door unfortunately had numerous failing parts including but not limited to a broken spring, damaged cables along with worn center and end bearings. It is always a homeowners choice as to which option they choose, but for homeowners staying in their homes, the best long term solution is to fix the system as a whole, rather than piecing it back together over time, as old parts can drag down the life of new parts. Although everyone's budget and situation is different, our customers over the years have spoken and seem to appreciate our transparent, honest and educational approach. Ultimately, we are pleased to know that you did get these items repaired, as they were potentially dangerous and of serious concern. We would also hope you would consider us in the future should there be the opportunity. Just let us know how we can help. Sincerely, PDS of NWA
Service Provided:
Garage Door Repair
---