(833)497-3667





WITH 688 REVIEWS
CLICK
To view local phone numbers
(479)-316-4226
(479)-316-4226
---
Fayetteville Area





Asher

Aurora

Canehill

Combs

Evansville

Greenland

Harris

Hazel Valley

Hogeye

Japton

Johnson

Kingston

Morrow

Pettigrew

St. Paul

Strickler

Summers

Wesley

Winslow

Witter
(479)-439-9119
(479)-439-9119
---
Springdale Area





Alabam

Elm Springs

Hindscille

Marble

Tontitown
(479)-250-4039
(479)-250-4039
---
Rogers/ Bentonville Area





Avoca

Gateway

Lost Bridge Village

War Eagle
(479)-802-4646
(479)-802-4646
---
Bella Vista Area





(479)-439-9119
(479)-439-9119
---
Siloam Springs Area





Cherokee City

Highfill

Maysville
(479)-259-1076
(479)-259-1076
---
Fort Smith Area





Alix

Altus

Bonanza

Branch

Cecil

Central City

Charleston

Chester

Dyer

Hartford

Huntington

Magazine

Mansfield

Midland

Mulberry

Natural Dam

Oark

Ratcliff

Rudy

Uniontown
(417)-553-9849
(417)-553-9849
---
McDonald County





Goodman

Lanagan

Powell

Rocky Comfort

Seneca

Southwest City

Tiff City
(918)-208-0341
(918)-208-0341
---
Eastern Oklahoma Area





Akins

Belfonte

Bokoshe

Bunch

Dwight Mission

Fanshawe

Fort Coffee

Gans

Gore

Hodgen

Honobia

Howe

Le Flore

Long

Marble City

Moffett

Monroe

Muse

Panama

Pocola

Roland

Shady Point

Smithville

Spiro

Summerfield

Talihina

Vian

Whitesboro

Wister
Andrew Day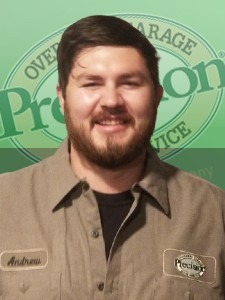 Residential Installer
Reviews: 1
Average: 5.00 star
Andrew Day has received
1
review, averaging
5.00
Stars:





Andrew Day's Bio:
Andrew recently relocated to Northwest Arkansas in July. Before that, he was born and raised in Wyoming helping his family raise horses. He also spent some time in Oregon and Washington. He is a fisherman and a hunter who enjoys fly fishing and chasing elk. Andrew is looking forward to being able to explore and find new spots for his hobbies. In Wyoming he attended college for Diesel Mechanics and has a background in the coal mining and wind farm industries. Here in Arkansas, he spends his time with his wife and their son. He is kind, hardworking and believes in getting the job done efficiently and effectively.





Date:
10/17/2022
Install Garage Doors
Bella Vista, AR
Review:
We had both garage doors replaced. Wes and Andrew did a great job, were done in a timely manner, and walked us through everything upon completion. We are very satisfied!
- Bill Long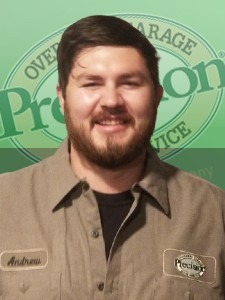 Service Provided:
Install Garage Doors
---
Product:
Garage Doors
---
Residential Installer:
Andrew Day